You already know that promoting yourself and your services effectively on the internet is the key to success as a loan officer. But having a pipeline filled with leads takes more than just launching a website or cold calling realtors.
While your branch or broker may offer some marketing support, ultimately, marketing your services as a loan officer is your responsibility.
But where do you start? Professional digital marketers have years of research and experience behind them - plus a team helping them execute the strategy. The great news is that you don't need a marketing degree to achieve mortgage marketing success.
We've broken down the most effective loan officer marketing strategies, helping you create a practical yet powerful plan that reaches local prospective borrowers and improves your lead generation.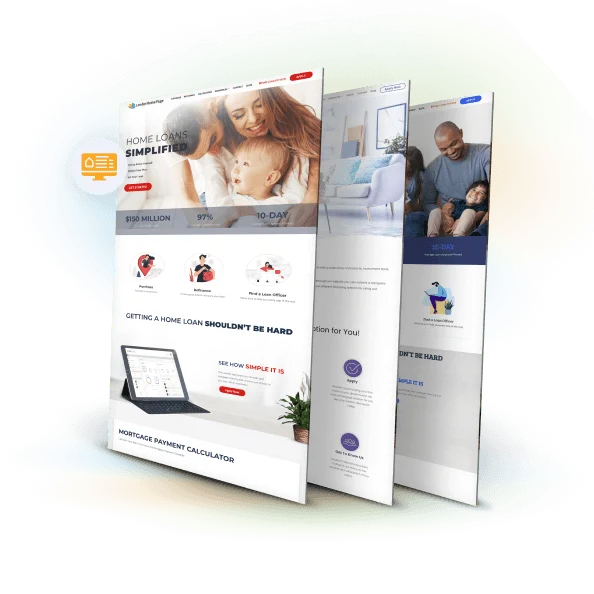 Winning Begins With a High-Quality Website & Content
Winning over the trust and attention of your clients begins with getting found online and keeping their attention with an attractive, optimized website full of insightful and easy-to-understand mortgage content.
A high-converting website is built with search engines and users in mind. An attractive design that makes an unforgettable first impression, secure, well-structured code presents the best version no matter the device, and a conversion-focused design that reflects your personal brand.
By meeting prospects where they are (online) and providing a personalized and valuable experience, you're in a position to stand apart from the competition and set potential clients up for success as they gain confidence in your expertise and the loan process.
As for which specific types of content you should have on your site, focus on blogs, testimonials, videos, and ebooks but also consider white papers, interviews, and even podcasts.
Consider what your target borrower will find useful, and then distribute that value-added content where your target audiences are likely to see it. Content creation goes beyond a single effort, but it generates more leads than traditional marketing and costs significantly less.
Learn more about Mortgage Websites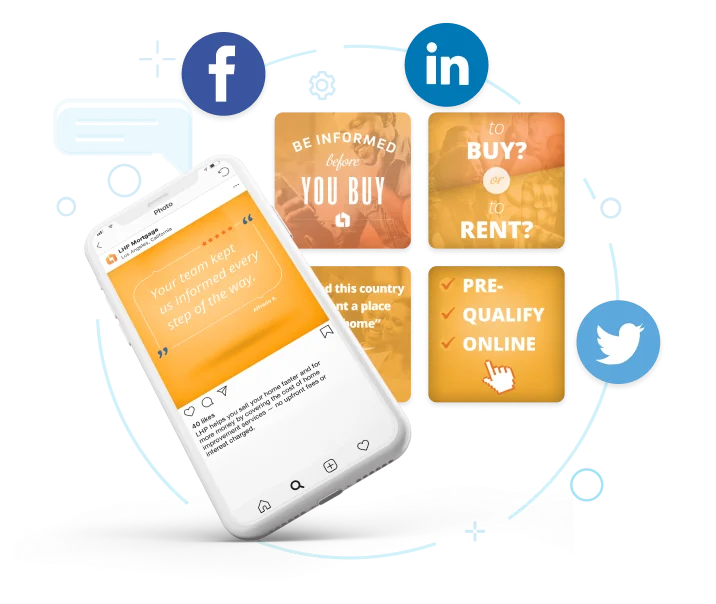 Social Media Marketing
Make sure to take advantage of one of your most effective marketing tools: social media. Social media makes conversation simple and accessible and allows you to connect with a wide audience, including realtors and potential referral partners!
Engage with your audience by:
Posting often, at least daily, but possibly more often, depending on the platform
Commenting on real estate partners' and potential clientele's posts
Responding to constructive comments
Posting a variety of topics, from informational and trending to fun and engaging
Sharing listings from your real estate partners
Promoting events that you may be hosting or attending
Don't be afraid to use your imagination. One emerging trend involves loan officers using TikTok to relate closer to Gen Z audiences.
By staying active on social media, you can keep your name at the forefront of people's minds, gain more recognition, build your following, and, subsequently, gain more leads.
Learn more about Social Media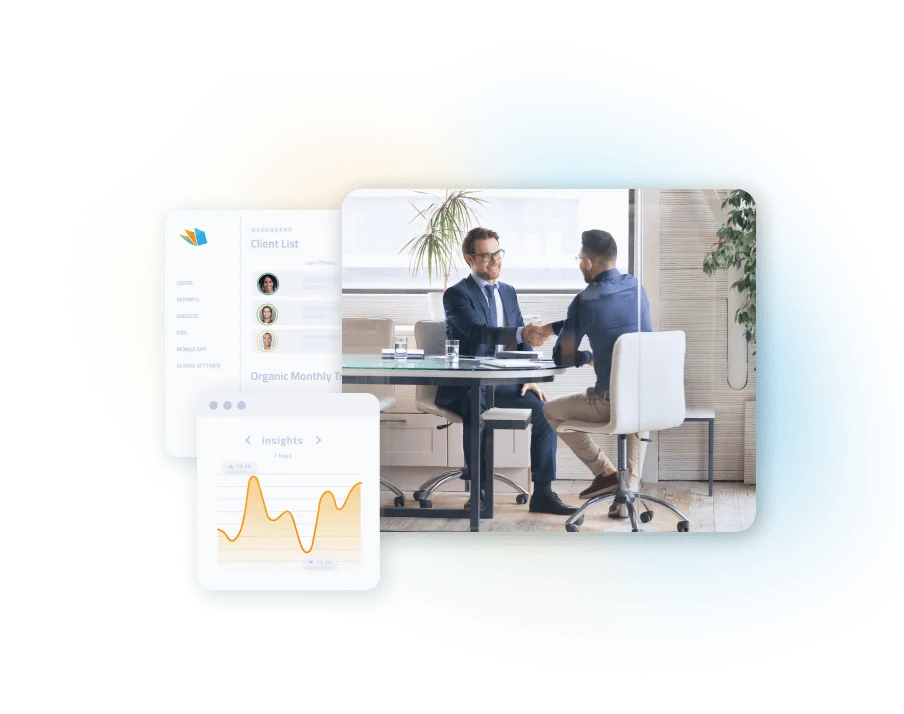 Boost Realtor Referrals
Because nearly 90% of recent homebuyers use a real estate agent in the home buying process, relationship building is a crucial step in gaining high-quality and relevant leads through agents.
Take advantage of any and all opportunities to connect, especially digital ones such as co-branded shareable mobile apps. But don't ignore the value of in-person events.
To build meaningful and long-lasting connections, focus on forming a good relationship during the beginning stages rather than simply diving into the sales pitch. Once the connection is made, you can start discussing how you might work together to bring in more business which is mutually beneficial for both parties.
Learn more about Loanzify Mobile App
Share Testimonials
A relationship with a happy home buyer can be your most valuable lead generation strategy. Invite past clients to leave a quick online review on Google Business, Facebook, and Yelp. Prospective borrowers rely on these sites for decision-making, making your online reputation management crucial!
Get even more value by asking your top clients for an in-depth testimonial. Creating a case study from a testimonial requires more effort, but the effort will be well worth it as this high-value content creates a powerful impression that positively increases conversion rates.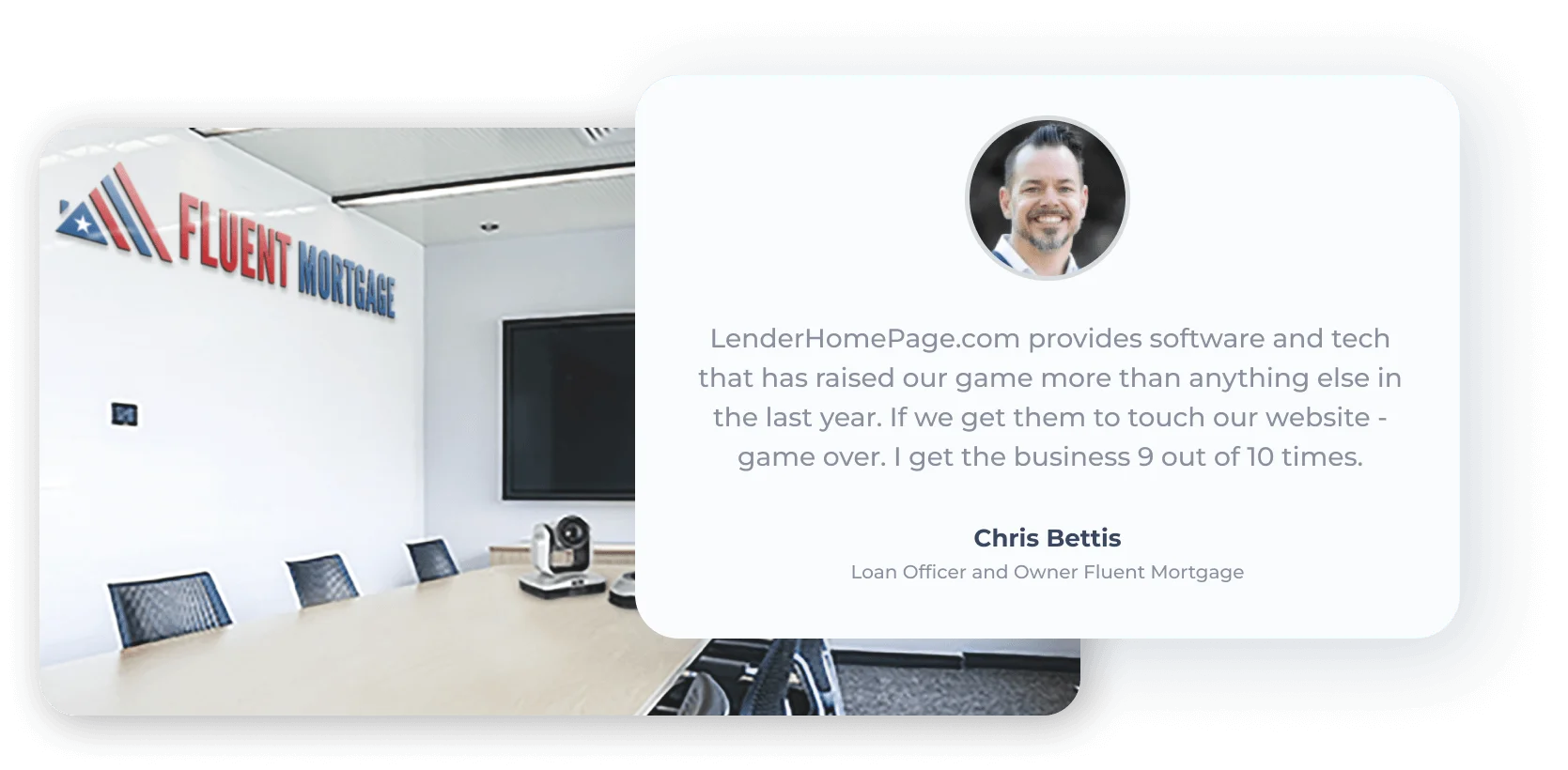 Email Marketing
Picking a niche is crucial for laying the groundwork for any successful loan officer marketing strategy. Because every borrower has unique needs and financial resources, identifying your niche will make it easier to connect with prospects and ensure that your message resonates with your ideal borrower.
How you collect the information will depend on many factors, such as what information your organization is collecting before passing the lead to you, your ability to segment your leads lists on the CRM, and other factors.
But generally speaking, you'll want to segment your leads into lists such as by pain point (low credit, newbie apprehension) or type of borrower (veteran, first responder, teacher, investor), or any other category where you can create content with topics that keep them interested and engaged with you.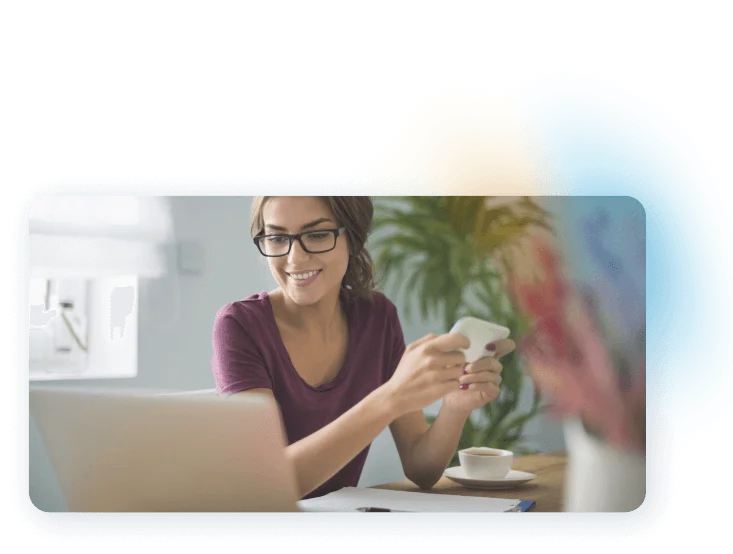 Video Marketing
While written content is undeniably valuable, visual content frequently has a stronger impact. Video content is a great way to improve website performance and move prospects through your leads funnel quickly.
In fact, studies show that watching a video increases a person's likelihood of purchasing a product by 85%. Topics for your videos should range from addressing common concerns to more specific issues. Take it a step further by talking about trending real estate news or even location-specific topics to boost your local SEO opportunity.
The idea of creating and editing videos can be intimidating, but it doesn't have to be! Even mobile-recorded content can be enough to capture the attention of your prospects.
Google My Business
As a loan officer, you'll find it beneficial to focus your marketing efforts on potential homebuyers in a specific region. A well-designed Google Business page can position you as the local authority on mortgage financing for new homes, which is a potent marketing tool.
It could also propel your business to the top of search engine results because Google now gives Google Business pages priority for local searches. Your Google Business page may appear next to or even above more recognized mortgage loan services.
A Google Business page can be easily created and cost-free. The key is to optimize it so Google will showcase it among pertinent local searches and give your mortgage business more exposure.
Here are some things to keep in mind when optimizing your Google Business listing:
Make sure the provided contact information is correct and consistent online.
Add photos, and be sure to name the file with your name and location.
Encourage former customers to review your services.
If you have a physical location, get verified!
Next Steps to Leveling Up Your Marketing
Now that you have a better understanding of how to go about online and market yourself as a loan officer to gain effective leads, it's time to start crafting a plan on which strategies you want to visit in the next 30, 60, and 90 days. When crafting a plan, make sure you outline how often you want to focus on a particular strategy.
For example, for the first strategy, 'market to real estate agents,' how many hours will you spend per week connecting with these agents? Make your plan as detailed as possible to avoid confusion in the long run.
By combining each of the strategies mentioned in this guide, you can easily outperform your competition and gain more eyes on you and your services. But remember, consistency is the name of the game. Own your marketing responsibility and dedicate yourself to it. Only then will you reap the rewards of effective loan officer marketing.